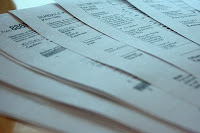 You may be just wrapping up your taxes for 2008, but I'm here to talk about taxes in the years ahead.
Whether you worked with a professional or on your own, you might recall the question that you get towards the end of the process…something about designating a portion of your refund to a local non-profit?
Sadly, we're not on the list for Oregon's Charitable Checkoff just yet. But we're trying REALLY hard and we have almost enough signatures to make it into the tax booklet going forward. While I hope at that time you'll consider giving us a teensy bit of your refund, I hope that right now you'll consider printing out this sheet and having friends, family, co-workers, poker buddies, etc… sign their names in support of our efforts.
Your signature might not garner big bids on eBay, but it's nice to know that it can help get us the funds to continue saving and rebuilding lives here in Oregon. Sign now!
Image courtesy of 427