A Lifetime of Volunteerism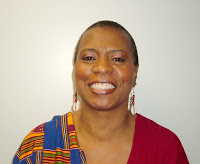 We've got a celebrity in our midst.
Okay, not one of these guys, but a hero nonetheless. And we couldn't be happier to have her as part of our team.
Today, Ms. Antoinette Edwards, our chapter's absolutely phenomenal Diversity Director, was announced as the winner of Multnomah County's Gladys McCoy Award, honoring a lifetime of volunteer achievement. She's the 15th winner and she'll be honored next Monday in front of all the county commissioners.
The official press release describes her as such:
Antoinette is a tireless and passionate worker who has spent the past 20 years reaching out to the most vulnerable populations in our community. She typically has several projects going at any one time. Active is not a sufficient word to describe her commitment. Tenacious would be more appropriate.
For example, while stationed at Columbia Villa Resource Center she managed 21 on-site community groups aligning and coordinating services for low-income families. Antoinette also developed English as a second language classes to meet the needs of Russian, Asian, and Spanish speaking residents. Other projects include: the Jefferson Family Resource Center, Girls Empowerment Groups throughout NE Portland, the "Sister, I'm Sorry" discussion groups, and numerous Grandparent support groups to name a few.
Never shy or bashful, Ms. Edwards brings such enthusiasm and drive to succeed to each project she undertakes that one cannot help but admire her spirit to overcome any obstacle to succeed for low income and at risk families. This spirit was recognized in 2007 with her inclusion on the Women Making History in Portland Mural located on North Interstate.
If you aren't familiar, the Gladys McCoy Award was established in 1994 to honor those who have given outstanding service in the area of community service and citizen involvement. Antoinette's name will appear on a plaque with past winners on permanent display in the Multnomah County Chair's Office.
CONGRATULATIONS, ANTOINETTE!