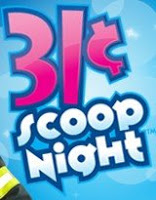 I scream, you scream, we all scream for ice cream…especially when it's just 31 cents.
If you head over to participating Baskin Robbins' stores tonight from 5-10 p.m., you can get your own small scoop for a bargain basement price.
What's more, you can help our nation's firefighters — the men and women who work side-by-side with the American Red Cross every day.
Besides making a $100,000 donation to the National Volunteer Fire Council (NVFC) National Junior Firefighter Program, B-R also suggests 7 fire safety tips. How could we not want to celebrate!?!?
Personally, I never need an excuse to eat ice cream, but if YOU do…shouldn't this be it?