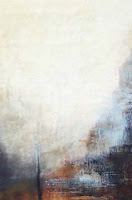 Housemade ravioli with roasted beets, local goat cheese and horseradish cream.
Halibut cheeks 'picatta' with quanciale, lemon and capers, accompanied by salt cod mashed potatoes.
Hazelnut brown butter cake with bittersweet chocolate and apricot sauces.
Oh, and lots and lots of wine.
Sounds delicious, right? Well, on May 6, that's exactly the meal* you could be enjoying at the Daily Cafe in the Pearl. And not only will it taste good, it'll feel good because you're helping the Red Cross.
That's right, $10 of the Cooks, Corks & Co-Conspirators dinner price ($70) will be donated to us, along with 15% of all art sales during the month of May. The featured artist is Erika James, who does wonderfully simple and modern encaustic work.
Reservations need to be in by May 4, so contact Andrea Sherman at 503.706.8627 or dailycafeinthepearl@mac.com. For more information about this event and the fun "Partnership Project" with Neighborhood Notes, click here.
* A vegetarian/vegan option is available. Please request at time of reservation.