Red Cross Employee Spotlight: Justin Miller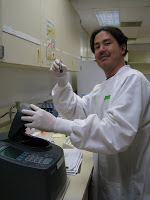 Meet Justin. He's a Red Cross blood services HLA technician here in Portland. Not only does Justin get to wear a really cool lab coat while he works, he also gets to do really cool-sounding things like test DNA (why does that make me think of Jurassic Park?) and cross-match platelet donors with recipients.
Justin agreed to let me share a story about him with you, but on the condition that I enhance it with some flattering adjectives (I'll let you guess which ones those are)…
As a brilliant and totally awesome HLA (Human Leukocyte Antigen) Technician at the Red Cross in Portland, Justin spends much of his time testing platelet donations in order to cross-match donors with recipients.
In late 2008, the lovable and handsome Justin was struggling to find a platelet match for a patient who required numerous transfusions. When HLA Lab employees realized that Justin was nearly a perfect match, he immediately headed for the apheresis donation desk to make an appointment to donate.
Justin donated several units of platelets that were later transfused in to the patient. Because of Justin, the patient's platelet needs decreased and eventually stopped altogether.
Being a really amazing and selfless platelet donor for patients in need is not a job requirement, but Justin sees it as the "right thing—the obvious thing—to do." He imagines each patient that he supports through his work at the Red Cross as "someone's mom or dad, sibling, or best friend – a loved one who needs help."

If you're an employee reading this and you don't know Justin, you should definitely try to know him. He's one of those super friendly, funny, and enthusiastic people that help make work enjoyable. (He actually didn't ask that I say this part–it's true!).
To help save lives like Justin through platelet donation, call 1-800-GIVE-LIFE, or visit http://www.givelife.org/. If you're interested in finding out about career opportunities with the Red Cross Blood Services in the Pacific Northwest, click here.
Photo: Justin using a "really complicated, expensive machine" to test DNA in blood samples