Big News For Oregon, Bigger News For NHQ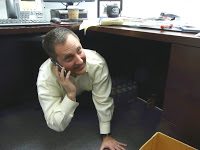 We've had big news around the Oregon Trail Chapter today — our fearless leader (and Cross Blogger) Thomas Bruner was just promoted to a position on the American National Red Cross management team.
As you can imagine, this is a wonderful reflection on the hard work that all of us in Oregon have been doing over the past few years. It's also exciting to know that Thomas' energy and enthusiasm will soon be seen (and heard!!) on a national level. Plus, Thomas gets to work side-by-side with Gail McGovern (GMcG), who we all know and love.
Still we're going to miss the guy. He's funny and smart and passionate and creative and an all-around outstanding CEO. I think we all consider ourselves fortunate to have had his leadership over the past few years and wish him the very best in this new role.
I encourage you to read the official press release for all the details and hopefully we'll hear from Thomas himself here on the blog. If you have well wishes or just good-spirited roasting, feel free to leave it in the comments!

Image: Thomas is unafraid to dive under his desk for an earthquake drill, but like any good leader, still won't hang up his cell phone…