All The News That's Fit To Print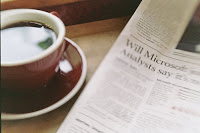 There are so many little announcements today that I thought I'd wrap 'em all up in one post, rather than drag things out.
So, without further ado, here's the rundown:
1. When Floyd Pitts came to visit, I thought he was awesome. Read what Maileen Hamto, editor of Colors of Influence, had to say.
2. Today's your last chance to register for the scrumptious wine dinner benefiting our chapter. You better believe I'll be there…
3. Get your sneak peek at volunteer Jaden's photos from our fun and fabulous CPR4LGBTQ class right here. They'll be on our Flickr soon!
4. Do you know your Geneva Conventions? Don't miss our FREE International Humanitarian Law class on May 8 to get the scoop.
5. In the manufacturing industry? Look for us this week at the NW Machine Tool Expo.
Whew. It's only Monday and we're off to a busy start!
Image courtesy of Portland's own cafemama