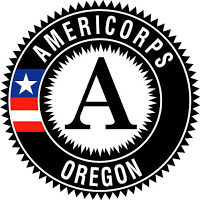 As the Oregon State Service Corps (OSSC) AmeriCorps Program recently finished up the 2nd quarter progress report for the 08-09 service year (covering September 2008 through March 2009). While representing American Red Cross Oregon Trail Chapter; we are proud to announce that our 51 AmeriCorps members around the state have completed:
– Red Cross ALERT training for 787 youth
– 45 Disaster preparedness presentations benefiting 1,055 people.
– Disaster preparedness outreach to 4,851 additional people through community fairs, home mitigation and other methods.
– 435.5 hours of disaster response benefiting 7,903 people.
– Tutoring and homework help for 672 students.
– 977 after-school activities benefiting 2,368 youth.
– Social support services for 2,820 youth and 1,428 adults.
– Coordination and support of 1,621 volunteers (who in turn provided 19,076 hours of service)
Total number of people served statewide by OSSC members over the first seven months of the 08-09 service year: 23,505.