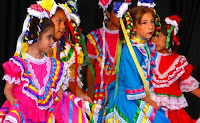 Happy Cinco de Mayo!
In honor of the holiday, I thought I'd do a round-up of some of the offerings we have for the Spanish speakers among us.
1. Spanish-language CPR classes, offered year-round.
2. An upcoming appearance at the Familia, Salud, y Vida Health Fair.
3. Bilingual blood drives throughout the year. The next one's Saturday, May 23 from 7:30 a.m. to 1 p.m. at the Portland Donor Center.
4. Tons of preparedness resources at http://www.cruzrojaamericana.org/, including this helpful walk-through.
No matter what language you speak, the Red Cross has you covered. If you know of other Spanish-language Red Cross resources, pass 'em on!
Image courtesy of ronnie44052