Taking A Page From Knit Lit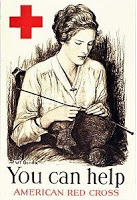 There is not an ounce of craftiness in my body. I can't garden or cook or scrapbook or make a cute first aid kit. And I absolutely, definitely can't knit.
The whole "casting on" thing is just too complicated for me, but for those steeped in the creative juices I lack, I highly suggest checking out this blog post from Crafting A Green World, which showcases the history of knitting in wartime…in honor of Memorial Day, of course.
As you know, knitting literature (or "knit lit," as I like to call it) saves an important spot for the American Red Cross. We had a pretty famous poster on the topic and there are oodles of Red Cross knitting patterns still available.
Sure, the season isn't quite right for knitting, but if I get started on one of these today, I might just finish in time for winter.
P.S. If you really love that vintage poster design, you can get it on about a million products from CafePress. However, unlike our store, the money doesn't go to support our efforts. Ahem.