Roses are red, violets are blue…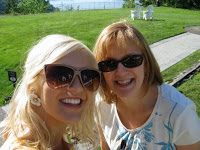 …sign up to donate blood, and people who need it will love you!
This is me with my mom Rose (right). My mom is the prettiest Rose I know. That's why I'll be entering her photo in the Red Cross Rose Festival Flower Show tomorrow. Sure, most people submit flowers in the contest, but I don't have a garden. Plus, my mom is amazing and I think the whole world should know (She will be embarrassed reading this. And of course she reads the blog…she's my mom!).
In honor of the Portland Rose Festival, the Red Cross Portland Center (3131 N. Vancouver Ave.) will be hosting our annual Rose Festival "Courting Donors" blood drive tomorrow (5/27) from 11:15 a.m. to 5:45 p.m. In addition to the blood drive, we will have the following fun activities:
* Free 10 minute chair massages for presenting blood donors from 12:00-2:00 p.m.
* Free mini roses for presenting blood and platelet donors (while supplies last)
* Live piano entertainment by Sally Harman from 12:00-2:00 p.m. and by
Jim Fisher from 3:00 -5:45 p.m.
*Red Cross historical displays that include vintage Red Cross uniforms.
* 2009 Rose Festival Court appearance from 3:00 -5:00 p.m. The Rose Court Princesses will visit with blood donors, sing along with the piano players, and judge the Red Cross Rose Festival Flower Show (open to staff and volunteers).
You don't have to be a princess or a blood donor to join in on the festivities. We welcome everyone in the community to celebrate with us tomorrow!
Photo: Tara Rose (me) and Rose Trullinger (my mom) celebrating my birthday last week at The View Point Inn