Be Prepared For Anything…The T-Shirt!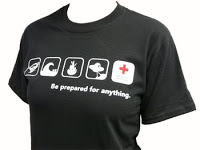 You've seen the design on our Twitter page and in our Ready Radio logo. The good natured humor, the preparedness message — what's not to love?
And now you can show your Red Cross pride (and inspire a laugh or two) with your very own "Be prepared for anything" t-shirt!
Order it online for just $12. Right now it comes in S-XL, but if it sells out, we might order more sizes next time around.
P.S. Extra special super thanks to graphic designer and volunteer extraordinaire Emily Steen!

P.P.S. Aside from keeping you warm, this t-shirt should give you a warm, fuzzy feeling, given that your $$ go right back into helping us save and rebuild lives here in Oregon!