Red Cross Spotting: Loïe Fuller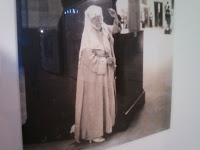 We've noted before that the Red Cross pops up everywhere. That's why we created the "Red Cross Spotting" Flickr pool, so that when you spot a cross, you can snap a pic and post it yourself.
So I've ceased to be surprised when the Red Cross rears its head…even on my weekends, even out with friends and even in the middle of the Columbia River Gorge.
Those of you that know me know of my love for Chuck Palahniuk's Fugitives and Refugees, a rather unconventional guide to Portland and the surrounding area. In it, Chuck details places of interest that often go under the radar; and this weekend, we thought to check out a few while guests were in town.
One of the spots we hit was the Maryhill Museum, about two hours east of Portland (but actually up in Washington). You can read all about the museum right here.
One of the museum's founders was Loïe Fuller, and there's an extensive exhibit of memorabilia from her lifetime as an actress, dancer and choreographer. Let me tell you, this woman was absolutely fascinating…perhaps she even influenced the more recent projects of Christo and Jeanne-Claude?
In any case, Loïe — in addition to all of her creative work — also raised money for the Red Cross and was photographed several times in Red Cross nursing uniforms, as you'll see above.
I snapped the pic (no flash, I promise!) in the museum, but I'd urge you to check out all of Maryhill's exhibits in person yourself!