Give Whole Blood, See Half-Blood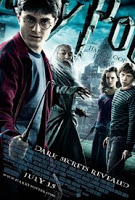 I have a secret: I love Harry Potter. I'm not obsessed by any means, like some people I know. I haven't read any of the books, but I absolutely adore the movies. For a long time I was in Harry Potter Denial (HPD); I refused to acknowledge the true awesomeness of wizards and magic, and dismissed the novels as a passing trend.
Before you head out to see the
half-blood
prince on the big screen (because I
know
you will), why not help save lives by donating
whole blood?
(Get it? Half-blood, whole blood?) I can't think of a better way to get my energy back after helping to save lives:
Harry Potter + buttery popcorn + candy + giant "small" diet coke + 2.5 hours of chilling out in a comfy seat… What's not to love about this scenario?
Call 1-800-GIVE-LIFE or visit givelife.org to make a
muggle
-saving blood donation appointment.