Disaster Response Update: Roselyn Apartments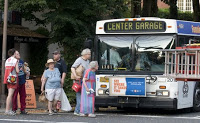 Last night, the lives of many NW Portland residents changed dramatically. Here's what the Red Cross did to help:
At 6:30 p.m., the Oregon Trail Chapter was notified of an apartment fire at the Roselyn Apartments, 424 NW 21st Ave. While the fire was largely in the common areas of the apartment building on the third floor, many apartments have smoke and water damage and all utilities in the building have been disconnected. Reports from Portland Fire and building management indicate that the residents will not be able to return to the building for at least 4-5 days.

Red Cross disaster volunteers were on the scene, providing 26 meals as well as mental health and health assessments for the residents. The Red Cross also opened a shelter at the Trinity Episcopal Church, 147 NW 19th Ave., where 17 clients spent the night.
Today, client casework volunteers will work with residents and the property managment company to transition clients out of the shelter and into longer-term housing. The majority of clients are expected to be placed in other rental properties today and tomorrow. The Red Cross anticipates providing hotel stays for fewer than eight clients over the weekend, with the management company placing the remaining families in rentals on Monday.
As you can imagine, it was a busy night and the work will continue today and tomorrow and as long as we're needed. Of course, all the assistance we provide — from food to clothing to shelter — is free, thanks to the generous support of people like you.
If you're interested in becoming a disaster volunteer and helping people like the Roselyn Apartment residents in their time of need, click here.
If you're interested in making a gift in support of our efforts to get survivors like these back on their feet, click here.
Photo (note the Red Cross volunteer on the left!) courtesy of Olivia Bucks/The Oregonian