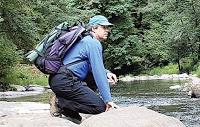 Whatcha doing this Thursday night?
Want to meet the Prophet of Doom?
Every month, our disaster volunteers get together for a meeting and invite a very special guest to present. This month, it's James Roddey from the Oregon Department of Geology and Mineral Industries (DOGAMI).
Roddey's name should sound awfully familiar — he's all over our newspapers (see here and here) and has been on OPB with some regularity (see here and here).
Why? Because he travels the Pacific Northwest explaining the relationship between natural hazards like earthquakes, tsunamis, volcanic eruptions, landslides — all hot topics around these parts.
What's more, Roddey is ENTERTAINING and EASY TO UNDERSTAND…though wrapped in his whimsical delivery is an important message: In the past 10,000 years, there have been 20 documented great earthquakes along the Cascadia Subduction Zone and, in short, "It's going to happen again!"
Though Roddey assures us that The Big One will be a "horrific, scary, terrible event," keep in mind that he doesn't like to be called Chicken Little. He prefers PROPHET OF DOOM. Seriously. Man, the guy is already cracking me up (and yes, pun totally intended).
While these meetings are always open to the public, I don't normally extend such a wide invitation. But, honestly, you don't want to miss this.
Thursday, August 6
6:30p-8:00p
Oregon Trail Chapter Boardroom
3131 N. Vancouver Ave.