Portland: Most Awesomest City Ever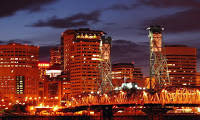 Last week was a big week for our fair city, as we were picked for several of those "Most Awesomest City Ever" lists.
Two that caught my eye — taking 2nd for large cities in average volunteer hours and taking 16th in the "Best City for Singles" competition.
Okay, okay. So I'm only excited about the second one because it proves that our Singles CPR classes are a good idea.
But I'm excited about the first one because it proves that Oregonians care deeply about giving back, helping their community and doing it all for just the warm, fuzzy feeling — no pay. They are conscientious, caring and passionate. Perhaps I should be working on a post about why volunteering is just as sexy as giving blood?
In any case, a hearty thank you to the whopping 36.7% of Portlanders who volunteer. And to the 1.015 million Oregonians who do as well. Read more here and than consider generously putting that spirit of giving to work with us!
Photo courtesy of Matt McGee