Real-Life Hero: Al Fischer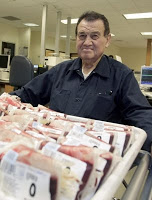 Who's your every-day, real-life hero?
My grandfather will always be my #1 hero. Before marrying my grandmother (and then contributing to the baby boom of the 50s), he fought in the 4th Armored Division of Patton's Third Army during WWII. While in Germany, he helped the U.S. to win at the Battle of the Bulge and liberated a concentration camp. Aside from his truly heroic military acts, he was a humble, hilarious, and intelligent man who had a special way of making all of his 18 grandchildren feel equally loved (we still argue over who was grandpa's favorite–it was totally me, of course).
If you're undecided about your real-life hero, I've got a new candidate for you: Al Fischer, an 83-year-old print shop operator from Massapequa, New York. Al is scheduled to donate a pint of whole blood today. His donation today will give Al a total of 40 GALLONS of blood donated in his lifetime. Al has touched over 1,000 lives through blood donation. How's that for inspiration? To read more about Al and his blood donation history, click here.
To be more like Al, make a blood donation appointment today by calling 1-800-GIVE-LIFE or by visiting http://www.givelife.org/.
Photo: Al Fischer of New York is scheduled to donate a pint of blood today that will give him a total of 40 gallons donated in his lifetime. Photo by Howard Schnapp.