Free Tsunami Workshop Comes To Coast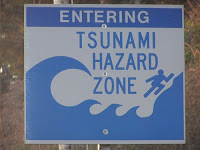 If you live on Oregon's coast and are concerned about the threat of tsunamis, this free workshop might be for you:
The two-day workshop will begin at the Cannon Beach City Hall on September 28 from 8:30 a.m. – noon. At 2 p.m. the workshop will move to the Seaside Library and continue until 5 p.m. On September 29, the workshop will be located at the State Office Building in Portland on Oregon Street from 8:30 a.m. to 5 p.m.

The workshop is geared to community officials, engineers and the general public and will discuss the necessity of such a building, engineering issues, building codes and other topics. There will be a specific portion of the workshop for the public on Monday at the Seaside session from 2 p.m. to 5 p.m. Residents are encouraged to attend.

Many communities in the Pacific Northwest in low-lying coastal areas are at risk for a tsunami generated by a Cascadia Subduction Zone (CSZ) earthquake. Approximately 100,000 residents are in the tsunami inundation hazard zone each day in Oregon. In addition, many of these communities attract tourists.
Tsunami evacuation buildings can withstand earthquakes and tsunamis and have shown to be valuable in Japan during these events. Traditional evacuation methods of "move inland and uphill" are effective in communities with nearby high ground; however difficulties involved in evacuating residents, tourists and aging populations and very short evacuation times make an evacuation building a viable alternative for saving lives.
Photo courtesy of TooFarNorth