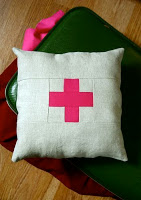 Those that know me, know that I adore interior design. I'm not a professional; in fact, I have no idea how to hang curtains and — full disclosure — I've never painted a wall in my life.
But, thanks to my artist parents and their decked out mid-century abode, I do have a good eye for shape and form, which is how I wound up being the Portland blogger for the wonderful, fantastic Apartment Therapy website.
But enough about me…
Now AT is looking for a new Portland blogger; a girl who's after my own heart by blogging the simplest, most balanced and proportionate design out there — the modern (and quite often red) cross.
Placed on pillows and quilts, these crosses provide comfort and respite…kind of like the organization they represent. And while I'm not quite ready to "Red Cross-ify" my bedroom, don't be surprised if you come visit and spot a throw pillow or two!