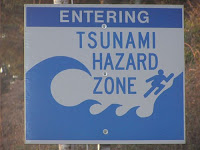 Indonesia earthquake. Samoa tsunami. Philippines typhoon. Atlanta floods.
Disasters can happen any time, any where. Are you ready?
Last night, NOAA issued a tsunami advisory for the Oregon Coast. It turned out to be a non-event, but it was also a great reminder that it's important to be prepared for anything.
In fact, this was about as "perfect" of a reminder we could get. There was plenty of advance notice — hours, in fact — ample time for coastal residents to review their evacuation plans, pull out their disaster kit and tune in to the news for regular updates. They could also review all of our tsunami tips here.
I was invited for live interviews on KPTV and KOIN, where I talked about what people can do to be prepared and that the Red Cross, with trained volunteers along the coast and pre-positioned disaster supplies in the area, was ready no matter what might happen.
Take this recent spate of disasters around the globe as your reminder to get ready. If nothing else, last night proves that Oregon's not immune.