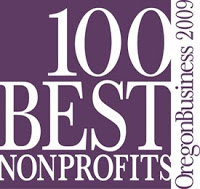 Ah, 17.
You can drive, but you can't vote. It's a bit of a numeric nether-region, but in this case, it's still something to be really proud of…
That's because, out of 100 fantastic non-profits in Oregon, we popped up as #17 on the large organization (75+ employees) list. Nice!
According to the Oregon Business magazine article, more than 6,700 employees from more than 200 nonprofits around the state participated. The specially designed survey was comprised of an anonymous 50-question employee survey and an independent assessment of the nonprofit employers' workplace practices.
Other noteworthy list mentions — our friends over at SEI made #15; those cute Girl Scouts made #25; and our partners at Ride Connection made #14 on the "medium-sized" list. All in all, this is a fantastic list of Oregon's best…and we're proud to be a part of it.
And (hint, hint) if you ever want to come join us, check out the current job openings!