Prepare-aphernalia: Meal In A (Hot) Can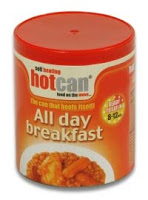 When disaster strikes, you might not have a microwave.
Seems pretty obvious that when the power goes out, so does the potential for hot food. Or does it?
For years, the American Red Cross has used "heater meals," which warm themselves through some mysterious combination of chemicals and black magic. See a heater meal in action.
Across the pond, those wacky Brits have developed their own version of a self-heating meal…enter the Hotcan, which comes in varieties including the intriguing All Day Breakfast, Irish Stew and Vegetable Curry. Read a review of how it works!
Whether you store 'em in your disaster kit (shelf life = 3 years) or stuff 'em in a backpack for camping, no matter where you are or what ensues, you're guaranteed a hot meal.