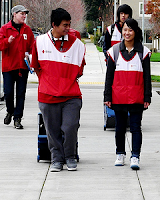 Would
YOU
wake up early on a cold, Saturday morning to walk door-to-door distributing fire safety information? Well 37 Benson High School teens did just that last weekend.
Thirty-seven!
Check out this
photo set of the teens in action
at our Together We Prepare New Columbia/Tamarack Neighborhood outreach event.
And would
YOU
give up birthday presents, and ask your friends to donate blood instead?
This teen did
. She was so excited to turn blood-giving-age that she decided to make her birthday into a real celebration of life.
Check out the video
.
Amazing. Someday I hope to be as cool as these teens. Rock on, guys!