Boil Order Tests Portlanders' Preparedness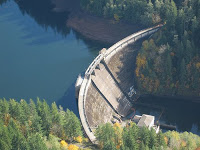 This weekend, the Portland Water Bureau tested your emergency preparedness.
On Saturday, PWB announced that residents on Portland's westside needed to boil their water, thanks to some e.coli contamination. Read more here.
By Sunday, the boil order was lifted, but not before many reports of bottled water shortages on grocery store shelves.
If you've been following our instructions to be prepared for anything, you surely had bottled water on hand already. Probably even enough to last for 72 hours, just in case.
But if you weren't ready, now's your chance to pull your disaster kit together. Whether you need to calculate your family's water needs or figure out how to store water properly, we've got you covered.
Winter usually means blackouts, storms and flooding for our area. Take the time to get ready now — you never know when something unexpected might happen.
Image courtesy of PWB's Flickr. Check it out!