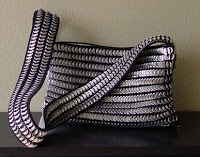 When a donor dropped off 3,000+ soda pop tops, we weren't sure what to do. Recycle for a little cash? Or make something truly unique?
A little thinking outside the box led us to Portland designer Kaleah Ott, an Etsy seller who makes incredible purses out of the little silver tabs. Ott quickly stepped up to the challenge, designing two spectacular handbags, now for sale on her site:
Check out the black purse
Check out the tan/neutral purse
From her description:
Constructed of over 1500 hand-pulled post-consumer aluminum pop-tops, this purse is as durable as it is beautiful. The horizontal pattern allows for the bag to move fluidly with your movements and slightly expands it's shape when full.
Smooth on all edges (no snagged clothing here!), each pop top is individually knotted in place, giving this purse some serious stability. Fully lined with tencel (a biodegradable fabric made from wood pulp cellulose), complete with an inner pocket and secure magnetic snap closure.
So now these "Pop Tops With A Purpose" really have one; $100 from the sale of each bag will be donated back to the Oregon Trail Chapter.
Green giving, indeed!