Doing Good While Looking Good, Part II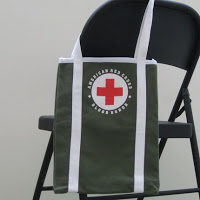 I've said it before, and I'll say it again: doing good and looking good go together like pigs and blankets.
I found this cute little recycled t-shirt tote on etsy.com (my current addiction). It's made by i2we, an organization in the Chicago area that gives immigrant women the opportunity to use their sewing skills while earning a fair wage.
It's probably pretty obvious why I think you should buy this particular style of their tote bag. Here's why i2we thinks you should:
Why You Should Buy from Us!
*You're helping the environment by saving these shirts from a landfill.
*You're helping the non-profit community because we only buy t-shirts from local charities.
*You're helping the woman who made your bag to earn a living wage so she can support her family as well as her future.
*You're helping yourself stand out from the crowd because you will never see another bag like the one you are carrying.

And on top of it all, this bag is pretty dang cute to boot! You can feel great with it on your shoulder because your purchase supports i2we, the bag shows off your support of the Red Cross, AND it makes you even more stylish. Now that's a bag. Way better than these.
Photo from i2we on etsy.com