Oregonian: Searching For Family That Survived The Holocaust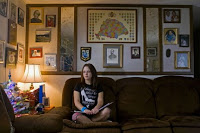 Alexa Dezsofi's eyes raced across the documents and landed on a stunning fact: A man who shares her last name, in all likelihood a distant cousin and the sort of family she'd searched for, had done what tens of thousands could not. He survived one of history's most notorious concentration camps, Dachau.
"Oh my God. Oh my God. Oh my God."
For a few moments, the phrase seemed all Alexa could utter, recalls Britany Schneider, the Oregon Red Cross worker sitting across from her that day this autumn. "Oh my God" — a mantra of surprise, a prayer laced with gratitude and hope.