A milestone in tweeting, and a special Thank You!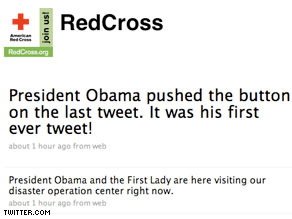 Last night I was looking at the news and something struck my eye! In this new age of technology and social media, we are seeing all sorts of new ways for interactions to take place. Facebooking, Tweeting, MySpacing, and other questionable verbs take place every day. Social media was even a major part of the Presidential Election, with President Obama being considered very tech savvy. However, it has been revealed that it was not in fact Obama sending those tweets.
According to CNN, history was made yesterday as President Obama became the first commander-in-chief to "tweet" a message. In response to the disaster in Haiti and the previous call for support made by his wife, President Obama made a visit to the Red Cross disaster response operations center in Washington, DC. A new media staffer prepared a tweet to announce his arrival, and asked the President to hit the 'update' button and make history.
He then went on to make a public thank you to the American Red Cross and all of those that have made contributions to the Haiti relief effort over the last week. See the video below to see it for yourself!