Willamette Week: Quake-Up Call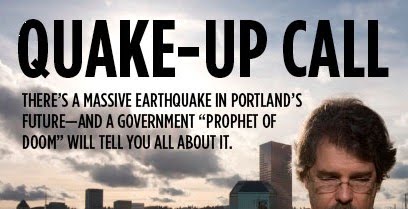 In the reasonably near future, perhaps within our lifetimes and quite possibly as soon as tomorrow, an earthquake will strike Portland with roughly the same force felt this month in Port-au-Prince.
But while the Jan. 12 Haitian quake lasted less than 40 seconds, the shaking in Portland will continue for at least four minutes. Portland will feel a quake with a strength, duration and destruction never before experienced in the developed Western world.
Our cataclysm will begin 75 miles off the Oregon coastline. The ocean floor will split, sending shock waves racing under the water as fast as 17,000 mph. Those shock waves, felt first as a rumble, will slam into Portland in 30 seconds. The rattling will grow into a pulsing undulation that will repeatedly shove the ground up and down as much as 6 feet.
Landslides will ensue in the West Hills, sending mansions crashing on top of each other. Several of the 10 bridges across the Willamette River will collapse—the Steel Bridge, Sellwood Bridge and Marquam Bridge, most likely—and the rest will be impassible. Big Pink and other office towers will sway so violently their granite and glass façades will shear off and crash into the street, piling rubble up 4 feet deep. The Multnomah County Courthouse will tumble. Underground gas, power and water lines will be pulverized. The soil beneath the Portland International Airport will temporarily turn to soup.
About half an hour later, a 30-foot wall of water will crash into the Oregon coastline, with the tsunami flooding as high as 100 feet above sea level, sweeping in and out for hours.
This is not a pitch for the next Hollywood disaster movie. It is the scientific consensus on what will happen here sooner or later. And the latest data suggest it may in fact be sooner.