50 Ways To Please Your Lover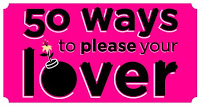 It might not sound like a huge accomplishment, but I'm proud to say that Singles CPR landed the #38 on Willamette Week's "50 Ways To Please Your Lover" list for Valentine's Day!
Here's what they had to say:
Lose your inhibitions and get down on your knees…then bend over…and tilt your partner's head back to listen for signs of breathing. It's CPR for singles! Now that's hot.
And just in case you've forgotten the details:
Singles CPR
Sunday, February 14
3-5 p.m.
Monterosso Room at Hotel Lucia
400 SW Broadway
Register at www.oregonredcross.org/SinglesCPR!