Haiti Earthquake: One Month Later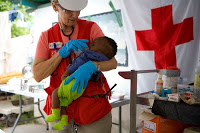 One month ago, I was planning my brother's birthday, getting ready for a friend's fashion show and attending NTEN's non-profit mapping showcase.
One month ago, residents of Haiti were going about their daily lives as well.
And then, in an instant, everything changed.
On Tuesday, January 12, less than one hour before sunset, a 7.3 earthquake struck Haiti near the capital of Port au Prince, causing catastrophic damage and loss of life. One month later, the needs are still immense, but the Red Cross continues to make progress helping earthquake survivors in need.
We are:
Producing more than 1.2 million liters of water per day, enough for 300,000 people.
Providing more than 1 million water-purification sachets and containers that allow people to clean and carry water.
Distributing food and relief items (blankets, kitchen sets, hygiene kits, buckets, water containers, laundry soap/detergent, and mosquito nets) to nearly 37,000 families (or 185,000 people).
Building latrines as quickly as possible in Port-au-Prince and Leogane, with more than 150 constructed to date.
Partnering to establish two field hospitals and four mobile healthcare clinics, which are providing medical services to up to 1,300 people per day.
Providing nearly 750 units of blood for earthquake survivors and funding $600,000 worth of food for the mobile clinics.
All this important work is being done by more than 600 Red Cross and Red Crescent workers from 30 countries around the world, working with more than 2,500 Haitian Red Cross volunteers.
If you'd like to know more about what's been accomplished in the last month — and the needs that lie ahead — please read the just-posted Haiti Earthquake One Month Report [PDF].
Photo: Talia Frenkel/American Red Cross