February 19: Honoring Vanport Survivors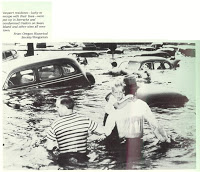 When you think about NW Oregon's biggest disasters, there are two that quickly come to mind.
One is the Columbus Day Storm of 1962.
And the other? The Vanport Flood in 1948, which destroyed in hours what was once Oregon's second largest city with more than 20,000 people.
It's important to note that nearly 30 percent of Vanport's residents during the flood were African-American and the sudden total destruction of the racially segregated community was seen as a catalyst for integration of other Portland neighborhoods and schools.
At the start of World War II, Portland did not have the local workforce necessary for the fast-paced ship building activities. Shipyard operator, Kaiser Company, recruited approximately 10,000 more shipyard workers, and encouraged Black people nationwide to come to Oregon.
To address the housing shortages this demand created, Vanport City was designed and built within months; its first residents moved into Vanport in January, 1943. Once completed, it was the largest housing complex in the United States.
From 1941 to 1946, the Portland area's African-American population grew dramatically as 15,000 to 20,000 new residents moved into the area. The rise was especially striking as Portland's pre-war African-American population was near 1,800.
I tell you all of this because — for the first time in the 62 years since the flood — a Portland city official (Mayor Sam Adams) will recognize Vanport survivors as part of the City of Portland's Black History Month celebration.
The reception will be held on Friday, February 19 at City Hall, 1221 SW Fourth Avenue, in the atrium from 5:00 p.m. to 7:30 p.m. All Vanport flood survivors are encouraged to attend the event.
I'm hoping that we can be there to honor these survivors as well, as the American Red Cross was definitely involved in the efforts. When thousands of residents were evacuated, Red Cross disaster workers responded, opening shelters and providing food and clothing. Our Motor Corps drivers carried volunteers and supplies to the stricken area. In fact, when President Harry S. Truman made a personal inspection of the damaged area, he commended local Red Cross workers for their response and assistance to more than 6,000 families.
A big thank you to City Hall and Mayor Adams for taking a moment to reflect on this tragic piece of Portland's history — an event that had a dramatic impact on the Portland we all know and love today.
If you'd like to read more about Vanport, check out these resources:
The Vanport Flood & Racial Change in Portland
Impact of Vanport Flood Remembered at PCC
Vanport Flood, May 1948
REPORT ON VANPORT CITY FLOOD DISASTER (Oregon Historial Society)
Vanport City and the 1948 Vanport Flood