Blood Donor Spotlight: Craig Cline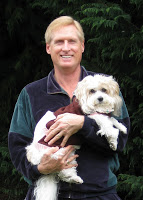 Craig Cline of Salem, Oregon has been donating blood for 26 years. Today he is scheduled to give his 160th pint of blood at the Red Cross.
Craig donates blood because he gets a "good feeling" knowing that each pint he gives may help save lives. Craig encourages other people to donate blood with their family and friends. "Create your own Red Cross team, and give blood together," says Craig.
The Red Cross would like to thank Craig for his blood donations, passion and years of support. Donors like Craig who consistently give blood can help save lives and contribute to an adequate blood supply.
Call 1-800-RED CROSS or visit
redcrossblood.org
to make a blood donation appointment. Your pint of blood could help save up to three people's lives… that's pretty amazing when you think about it.
Photo of Craig Cline and his dog