Is Your Biz Disaster Ready?
Just wanted to point your attention to this week's Oregon Business magazine poll, which is right up our alley: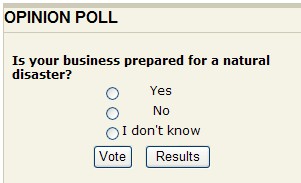 Okay, so you can't vote in the image above, but you can click on it to vote on the Oregon Business page. You can also see the up-to-the-minute results.
If you don't think your business is as prepared as it should be, I'd urge you to get in touch with our Health & Safety team, who can help with preparedness products (think 10-person disaster kits) for your staff. We can also help with emergency tips for everything from earthquakes to pandemic flu.
Questions? Call us any time at 503-284-1234 or shoot us an e-mail.