CONTEST: (Let's Get) Ready To Rumble!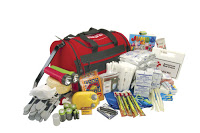 In honor of Earthquake Month, we're holding a contest to encourage you to be prepared for anything.
To enter, simply take a photo of your disaster supply kit spread out on the table or floor. Then submit the photo one of four ways:
1. Via Flickr. Post to the Ready to Rumble! photo pool.
2. Via Twitter. Send to @RedCrossPDX.
3. Via Facebook. Post to the RedCrossPDX wall.
4. Via e-mail. Send to harwinl@redcross-pdx.org.
All photos must be submitted by April 30, 2010.
A winner will be selected at random and will receive a $50 gift certificate to the Oregon Trail Chapter store at www.oregonredcross.org/store — to purchase more preparedness products, of course!
Eventually, all photos submitted will be displayed at www.oregonredcross.org/ReadyToRumble.
BUT WAIT! What if you don't have a kit?

Gather up the items that you DO have (flashlight, batteries, canned food) and take a photo. Consider this your first step towards getting prepared. You can also purchase one of five kits listed on this page and get 20% off using code EARTHQUAKE. Now there's no excuse not to participate!
Fine print: Red Cross employees are encouraged to submit a photo, but are not eligible to win.