Fashion Finds: Summer REDecorating
Even though Tara's gone, her REDecorating tips live on. And even though it doesn't FEEL like summer, with the solstice passed, I can assure you that it really is.
So, first up, how about some wall art? These microscopic images of blood cells from WellCome would look terrific framed up and displayed. While the red blood cells have a medical "polka dot" sensibility, I tend to prefer the white blood cell, which comes in three fantastic colorways: turquoise, royal blue/green and brown/purple. Hanging all three on the same wall would definitely make a statement.
Speaking of statements, what exactly would a bathroom that features blood drip hooks, a bloody bathmat and a handprinted shower curtain say? Perhaps "Dexter Lives Here"? Or Patrick Bateman?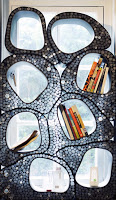 And if you're looking for a slightly more subtle way to throw some blood around your house, how about this shelving system, inspired by blood capillaries? I'm not sure how much it actually stores, but it's certainly organic.
No matter how you decide to REDecorate for summer, we hope your plans include a stop by your local Red Cross chapter to donate some of the real stuff to us. Have you scheduled an appointment?