Twilight: Eclipse Blood Drive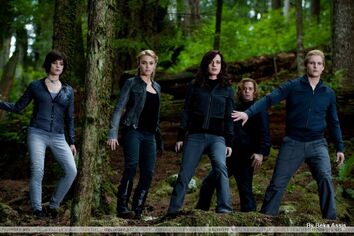 In the past, the Red Cross and the 'Twilight' franchise seem to go hand-in-hand. Chapter services promoted the film, then Twilight came back to support Chapter services, and Blood Services loves any chance to tie in the importance of blood collections to pop-culture! With the days counting down until the next film, Eclipse, there is a special event you should know about…
On June 30th, the Red Cross will hold an Eclipse blood drive at the Clark County Donor Center.
Twilight fans can donate blood in honor of their favorite vampire or werewolf and get free twilight memorabilia. The donor center hours are from 1:00 PM – 7:30 PM.
The company that makes the jewelry for Twilight is called Artisans Designs, and is based out of Portland. Rick Thurber is the owner of Artisans Designs, and is also a big supporter of the Red Cross. On June 30, Rick will receive a pin marking his lifetime blood donation of 14 gallons to the Red Cross! Anyone who presents to donate on at this drive will be entered into the drawing to win a piece of jewelry from the Twilight movies. Two pieces will be donated for this drawing, Dr. Carlisle's ring and Alice's Choker.
So if you are eligible to donate and are with Team Edward, donate to support the Cullen family! And if you are Team Jacob, starve a vampire by donating blood and have a chance at taking the Cullen family crest!


Photo 1: Promo for Twilight Eclipse (Summit Entertainment)
Photo 2 & 3: Artisan Designs