Ain't afraid of no ghosts!
While looking at the same site that featured the Crank Water Purifier, I noticed a pretty nifty new invention for firefighting. The HPI 1000 Impulse Gun, which shoots out pressurized water that can cut through the flames to hit the heart of a fire. Plus, it looks like the Proton Pack from Ghost Busters, the same gang that made living in a firehouse stylish! After seeing this, immediately I started seeing solutions to a few problems we currently face.
PROBLEM:
Out of control wildfires and a heatwave are causing trouble in much of Russia. In Moscow, the daily death rate has doubled and the intense smog from the wildfires has made the air seven times more toxic than their air quality limit.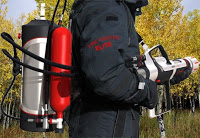 SOLUTION:
Enlist an Elite team of Firefighters with the HPI 1000 Impulse Gun. I imagine there would be repelling from helicopters as they extinguish flames with precision strikes.
OR… be prepared for heatwaves,
and for fire prevention. Prevention is the key. Meanwhile, the situation in Russia appears to be improving, with the skies clearing up and officials making progress in containing the fires.
PROBLEM:
So… apparently I spoke too soon. The day after posting about how West Nile has yet to make an appearance in Oregon, it makes an appearance. Mosquitoes have been abnormally active this summer, so what are we going to do?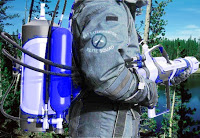 SOLUTION:
Enlist an Elite team of Exterminators with the HPI 1000 Impulse Gun. They could eliminate Mosquitoes at the source, spawning pools, using a safe insecticide spray. (Probably) riding to remote areas in a 1959 Cadillac Miller-Meteor Ambulance.

OR… you could donate blood and help starve mosquitoes! And Ready Radio has some great tips for fighting mosquitoes!
PROBLEM:
Lise Harwin needs friends with pools. Badly. This means only one solution…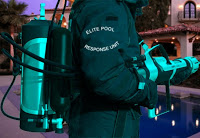 SOLUTION:
Enlist an Elite team of Pool Filling Experts with the HPI 1000 Impulse Gun. With the high pressure rigs, they could make their own pool foundation by shooting directly towards the ground! And, could stay around for an epic pool party.
OR… become friends with her by adding the Portland Red Cross to your Facebook!
PROBLEM:
Ghosts. They are a pesky problem and aren't too friendly. With tomorrow being Friday the 13th, spooky things might happen!

SOLUTION:
What? The Ghost Busters have an unlisted phone number? Well, Ghosts have another threat. A threat to their recruitment. As the American Red Cross is out in full force to save lives! Sign up to volunteer or donate today to join the solution!
As for Friday the 13th, it might not actually be as spooky as you think. Several studies have tested the supposedly hazardous nature of the day, and it appears to be just like any other day. Several studies actually say it is safer than a normal Friday!