Make A Bed, Make A Difference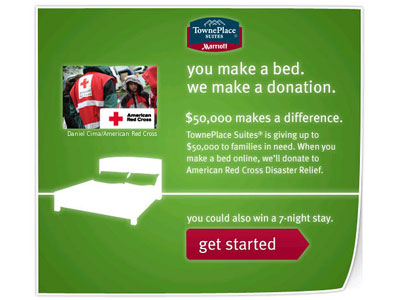 As much as I enjoy dressing like a 50's housewife, I rarely act like one.
More specifically, I don't cook or clean — I like to pay restaurants and professionals for such privileges.
But there is ONE thing that I do every day, without fail…I ALWAYS make my bed.
There's just something about coming home to straightened sheets and plump pillows that makes going to bed relaxing and not stress-inducing. Plus, when friends drop by unexpectedly, you can skip that stern warning of "Do NOT go in there!" for at least one room.
Even if you're not a real-life bed-maker, you can practice your skills virtually with a new Facebook app from
TownePlace Suites by Marriott.
Just
go to
www.facebook.com/makeabed
, click to "virtually" make a bed and TownePlace Suites will donate $2 to Red Cross disaster relief.
The company's goal is to donate up to $50,000 by November 1, 2010
.
Give it a try and tell your friends. If four of them join you, you'll be entered to win a
7-night stay at any participating TownePlace Suites location.
Having a professional make my bed for a week? Now that sounds like my kind of contest.