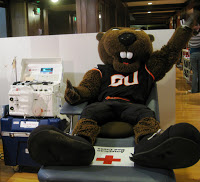 We are now half-way through the Civil War Blood Drive Campaign. The counted ballots so far have the Beavs with a slight lead, 2,073 to 1,491. However, don't let those numbers convince you the Beavs are going to win.
I just returned from a week at the OSU campus drive, which tends to be the regions largest drive. An amazing 1,072 units of blood were collected over four days, and a region record for double red collections, with 40 successful procedures on Wednesday alone (on six setups). Double red donation involves a centrifuge that takes roughly twice the quantity of red blood cells of a normal whole donation, but returns the platelets and plasma. Having this drive earlier in the campaign tends to give the Beavs an early lead.
It sounds like a lot, yet next week is the University of Oregon campus drive! The Duck drive only brought in about 200 units of blood a few years ago, however the challenge from the Beavs has been heard- 604 units were collected last year and this year a fifth day is being added (Monday). The UO Alumni Association is stepping up to the challenge as well, with special events and activities to rally students and alumni.
Don't forget- the campaign is state-wide. You can vote for your favorite team at any area blood drive now through November 20th. As the final days near, keep track of the competition at www.civilwarblooddrive.com and spread the word!