Why the Heck Should I Give to the Red Cross?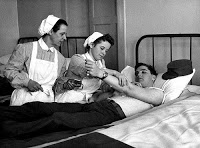 I've been playing around on this new Red Cross website all morning, whyshouldigive.org. It's not so much a game, but it gives you different reasons that the Red Cross is an amazing cause worth giving to.
The facts range from general, the Red Cross responded to 550 fires in the Phoenix area last year to obscure, Elvis was a Red Cross supporter and donated blood while in the army.
After reading the facts, there's an option for you to click to donate. It's a fun way to find out more about the Red Cross and donate any amount from $1 to whatever your heart desires. Check it out!