ON NOW: Youth Photo Contest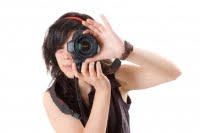 Health helth (noun) 1. A state of complete physical, mental and social well-being and not merely the absence of disease or infirmity. ~ World Health Organization
As part of National Public Health Week, Community Health Priorities, a project of the Northwest Health Foundation, is sponsoring the 2011 Oregon Youth Photo Contest!
Per the instructions: With this photo contest, we are looking at different ways to show health and healthy (or unhealthy) communities. The environment in which you live, work, and play affects your health. Using the lens of your camera, we want to see what you believe makes a healthy community!
[IMHO, giving blood and learning CPR are important parts of a creating a healthy community. Just sayin'.]
In order to qualify, you must live in Oregon and be age 12-18 as of March 1, 2011. Prizes range from $100-$300 and judging will be based on 5 categories:
* Presentation – Mechanics related to spelling, punctuation of title & caption* Expression of " health" theme – Presence and connection of health theme* Artistry/Composition – Photograph's visual quality* Creativity/Originality – Originality of message of entire submission* Overall Impact – Of the health message
Wanna know more? Read the rest of the contest rules.