Run for Red Cross Brings Over $600 to the Relief Effort!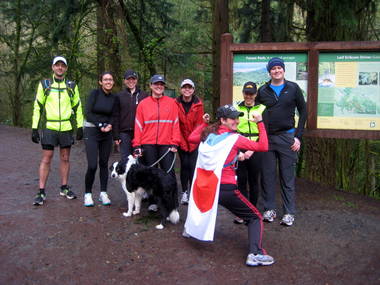 With a grand total of $640 in combined cash and online donations to benefit the Japan Earthquake and Pacific Tsunami Disaster Relief efforts, RunOregon hosted an incredibly successful American Red Cross Donation Run this past Saturday! Zipping up their windbreakers, lacing up their sneakers and even wrapping up in the Japanese flag, these runners made an extra effort to support the relief work.
Beyond the time and money that the runners provided, the run also had some great giveaways –Fit Right NW provided gift certificates and Energy Events provided entries to the recent Ft. Vancouver Runs.
The original article, which you can view on OregonLive here, stated that for those affected, "temperatures at night are near freezing, and tens of thousands don't have permanent housing; basic food and water supplies are lacking and getting these supplies to those in need is a logistical nightmare. These are the challenges the American Red Cross is addressing, and your donations will help."
Thanks for making a difference!
Photo courtesy of Kelly Barten and OregonLive.com