This weekend: Derby Day @ Blitz Ladd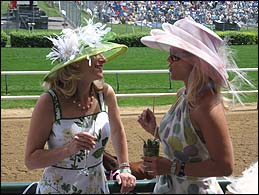 Do you like Mint Juleps? Do you like dressing up? Do you enjoy raising money for a good cause? If so please come participate in the Derby Day Party this Saturday at Blitz Ladd!
This event, also a benefit for the Red Cross, will be held this Saturday, May 7th from 11:00am-3:00pm at the Blitz Ladd (2239 SE 11th Ave) hosted by Alisa Sloan and Darcy Kochis.
Bring your friends! Wear your biggest hat! Come early to snag a good seat for the race and have a Mint Julep! Or two.. or three… This is a free event and you will have the opportunity to win prizes such as hats from Bonnet, gift certificates to Blake or Under U 4 Men, an overnight stay at the Lynnwood Marriot, a fashion accessory from Moto Kitty and a case of pirates booty! Just bring your Derby best and a winning attitude.The money raised from horse "wagering" will benefit the Red Cross to help flood victims.
While this event will be fun, the reality is due to increased rainfall, many Southwestern states have been experiencing severe flooding displacing many families from their homes. According to the Nation Weather Service this has been the worst flooding since the great flood of the lower Mississippi Valley in 1972, one of the biggest natural disasters in US history. Luckily, due to the levees and locks built after that event the destruction has been less sever this time around.
So this Saturday come on down to Blitz Ladd for some fun and let's raise some money for this cause!