Tiny Drones + Daytime Mosquitoes = Red Cross Conspiracy?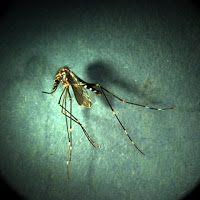 Our own Dave Brooke spotted this letter in today's Oregonian. It made me smile on a Friday, so I thought I'd share it with you. Thanks for making our day, Alan!
Local buzz
I read with interest this week's story on the miniaturization of drones and reader comments on their possible use for domestic targeting.
So I was especially curious about the new mosquitoes that are being seen locally — the ones that like to suck blood in daylight ("A new mosquito is hungry to meet you," June 22).
I can report that I have managed to catch one of these new mosquitoes and examine it under my handy home microscope. Along its abdomen, I could just make out the words: American Red Cross.
ALAN MEYER
Newberg
Photo courtesy of
Carl Pierce/Multnomah County