Dedicated Blood Drives Honor Officer Who Survived Multiple Gunshot Wounds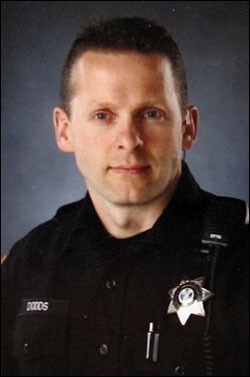 The Lincoln County District Attorney's Office recently hosted a two-day blood drive to honor Lincoln City Police Officer Steven Dodds. Officer Dodds received multiple gunshot wounds during a traffic stop in Waldport, Oregon on the evening of January 23, 2011.
Due to the quick actions of fellow officers and emergency medical responders, Officer Dodds was transported to Legacy Emmanuel Medical Center in Portland. There, he was the recipient of over twenty blood products over the course of several surgeries, which helped save his life.
This clip is from a 30 minute news conference held at the hospital. The reporter refers to his blood loss and says that it seems miraculous that the officer survived (14:22 to 13:21). Dr. Seth Isenberg then talks about the Red Cross being across the street and about the lifesaving transfusions of blood and blood components.
Officer Dodds' dedicated blood drive at the Lincoln City Community Center drew a large number of community members who were pleased to have the opportunity to honor him, as well as support their community blood supply.
The following day, the blood drive took place behind the County Courthouse in Newport. It was well attended by county employees and community members who were surprised to receive personal thanks from Dodds himself. Many hugs and handshakes were shared as donors were delighted to see that Officer Dodds was able to stop by for a visit. Dodds made a point to tell us that he felt very honored to see so many friends and coworkers take time from their busy days to support the American Red Cross.
After months of hospital care from losing about 10 quarts of blood, Officer Dodds fought for his life and is now able to recover successfully at home.