The biggest blowhard in Oregon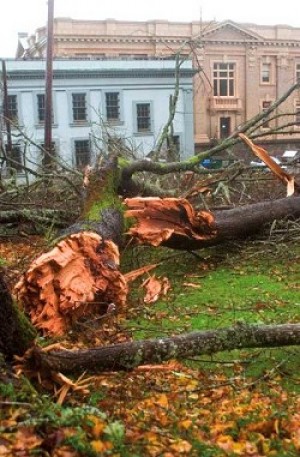 No, we're not talking about what people whisper in the audience at one of my talks, although…
We're talking about the fact that the President of the Oregon Chapter of the American Meteorological Society (Certified Smart Person category) says western Oregon is overdue for a big windstorm, which happens roughly every 15 years.
According to Steve Pierce of the OCAMS (see fancy title above), this past Sunday marked the 30th anniversary of one of the most powerful windstorms to strike the region. Known as the "Friday the 13th Storm," it brewed in 1981 over the northeast Pacific Ocean before slamming the Pacific Northwest coastline with winds of 90 to 120 mph.
Winds of 70 to 90 mph hit the Willamette Valley just after midnight as the day turned into Nov. 14. A dozen people died.
"Hundreds of power transformers arched for hours in the nighttime sky across the Portland metro area. Many of the weather forecasts put out ahead of the 1981 storm underplayed the winds' potential that night. Advancements in technology since 1981 will likely never let that occur again," Pierce said.
Not to disagree with a Certified Smart Person, but I remember a forecasted "small snowstorm" a couple of years ago that paralyzed Portland for 2 days.
Other famous windstorms of the past half-century include the really big one, the "Columbus Day Storm," Oct. 12, 1962, and the "Great Coastal Gale" of December 2007 (which nobody at the coast was ready for either).
Got a plan for sitting in the cold and dark at home for a few days? When it happens, just remember, you've been warned by a certified blowhard…