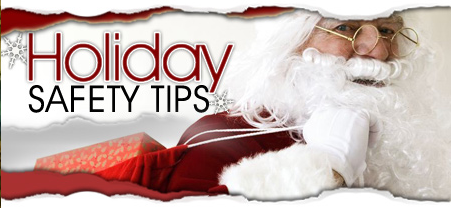 The Oregon Red Cross has some great safety tips for this winter season, even if you're not riding in a one-horse open sleigh or roasting chestnuts on an open fire… Holiday Safety Place Christmas trees, candles, and other holiday decorations at least three feet away from heat sources like fireplaces, portable heaters, radiators, heat vents and candles.

Make sure that light strings and other holiday decorations are in good condition. Do not use anything with frayed electrical cords and always follow the manufacturer's instructions.

Never use lit candles to decorate a tree. Always extinguish candles before leaving the room or going to bed.

Smoke alarms save lives. Install a smoke alarm near your kitchen, on each level of your home, near sleeping areas, and inside and outside bedrooms if you sleep with doors closed.
Weather Safety Although winter hasn't officially begun, snow has already fallen on many parts of the country. But it's not too late to prepare for whatever Mother Nature may send your way. First, make sure you have an emergency preparedness kit. This should include, at a minimum:
Water — one gallon per person, per day for drinking and hygiene purposes
Food that is non-perishable and easy-to-prepare
Battery-powered or hand crank radio (NOAA Weather Radio)
Flashlight and extra batteries
First aid kit, medications and medical items
Manual can opener
Extra blankets and warm clothing, including boots, mittens and a hat for all household members
Non-clumping kitty litter to make walkways and steps less slippery
If a winter storm WATCH is issued in your area, it means a winter storm is possible. Pay attention to updates from local radio and TV stations, and avoid any unnecessary travel. If a winter storm WARNING is issued, it means a winter storm is headed for your area. Stay indoors during the storm if possible. If you must go outside, several layers of lightweight clothing will keep you warmer than a single heavy coat. Gloves (or mittens) and a hat will prevent loss of body heat. A blizzard WARNING means strong winds, blinding wind-driven snow and dangerous wind chill are expected. Seek shelter immediately! Driving Safety Avoid traveling by car in a storm, but if you must, make sure you have a winter storm survival kit in the trunk. Keep your car's gas tank full for emergency use and to keep the fuel line from freezing. Let someone know your destination, your route and when you expect to arrive. If your car gets stuck along the way, help can be sent along your predetermined route. If you do get stuck . . .
Stay with your car. Do not try to walk to safety.
Tie a brightly colored cloth (preferably red) to the antenna for rescuers to see.
Start the car and use the heater for about 10 minutes every hour. Keep the exhaust pipe clear so fumes won't back up in the car.
Leave the overhead light on when the engine is running so that you can be seen.
As you sit, keep moving your arms and legs to keep blood circulating and to stay warm.
Keep one window away from the blowing wind slightly open to let in air.
Giving the gift of Preparedness is a great way to show you care. Purchasing or putting together 3-day Disaster Supply Kits is a wonderful way to help the friend or family member who 'knows they should' but never quite gets around to creating one. Please view our life-saving products at our

Red Cross Store.
On behalf of all of us at the Oregon Red Cross, we wish you a safe and happy holiday season!