Saving the Galaxy One Pint at a Time – The Sequel!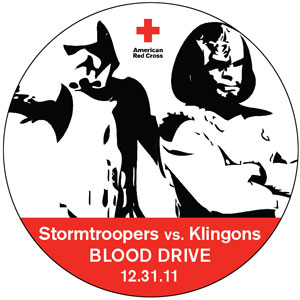 On December 31, 2011, the Red Cross will rekindle an epic blood drive battle between the ultimate galaxy warriors: Stormtroopers vs. Klingons! Blood and platelet donors from the greater Portland area will once again be called upon to choose their side in the intergalactic showdown!
The 2nd Annual Stormtroopers vs. Klingons blood drive will take place during the day on New Year's Eve (12/31/2011) at the Portland Donor Center, located at 3131 North Vancouver Avenue, and will run from 9 a.m. until 2:30 p.m. Mingle and take photos with members of Star Wars and Star Trek costuming organizations "The 501st Legion: Vader's Fist" and "Starfleet International." Watch the films, listen to the soundtracks and defend your galaxy's honor!
All presenting donors will have the opportunity to cast their ballot for either the Stormtroopers or the Klingons, and the side which receives the most votes will walk away with the second annual Galaxy Drive trophy.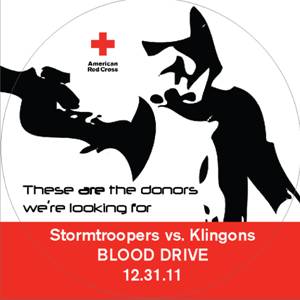 In addition, donors will be given event-themed buttons (graphics shown here), a black Red Cross t-shirt and a free large, two-topping pizza coupon from Papa Murphy's. They can also enter into a drawing for a $100 gift certificate courtesy of our friends at ThinkGeek AND a $100 Safeway gift card. Cake and coffee will be served, along with standard refreshment items.
Start the New Year with a new tradition! Bring in friends and family to experience the next frontier of blood drives in Portland!
To participate, here's how it works: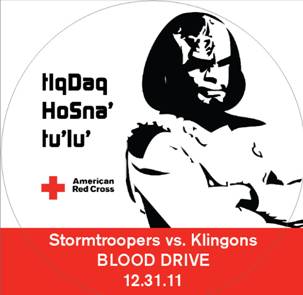 1. For more information and to schedule your appointment, call 1-800 RED CROSS or visit redcrossblood.org and enter sponsor code: stardrive to register as a donor for the December 31st drive at the Portland Donor Center.
2. Blood donors must be at least 16 years old (16 year-olds require a signed Red Cross parental consent form) and meet minimum height and weight requirements.
3. Donor appointments are not required, but are preferred.